Romeo had a very slow day today. Moving around took an extraordinary amount of effort again and he even had to take a break when going to the back door for outside time. He also only had a few nibbles of food all day, which is not like him at all.
So we decided to try to entice him with something yummy for dinner. Since we're not really concerned with his diet at this point, the options were wide open. We decided on Carl's Jr for dinner for ourselves and figured Romeo would like their menu offerings.
Trent, the vegetarian, willingly sacrificed the meat from his burger. (By the way, at Carl's Jr you can put the fried zucchini on the burgers instead of the meat. According to Trent, it's yum-yum-yummy*) We also ordered chicken strips for Romeo.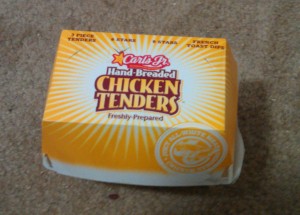 When we got home, we again offered Romeo his kibble and he practically wouldn't look at it. But as soon as the fast food cartons appeared, we had his attention. He was ready to inhale the entire burger patty, but I tore it up and threw it bit by bit into his bowl. After the burger and two chicken strips were gone, the bowl of kibble had been eaten too.
Then Julio took off with the empty food carton to shred it.
So tomorrow's mission will be to stock up on yummy goodies. I'm thinking about chicken and ground beef to start with. Canned dog food would be handy too for the times we don't have time to cook for the dog. (At this point we rarely even cook for ourselves.)
We'll see how Romeo feels tomorrow to find out if I'll be stopping for fast food on the way home.
*This is my interpretation of Trent's reaction and not meant to imply that he would use such language.